---
The "forging" of forged steel refers to the manufacturing process of changing the shape of the material without melting. Hot rolling and cold rolling are the two most common forging methods, in addition to a variety of extended forging forms, such as: wire drawing, deep drawing, extrusion and cold heading. What they have in common is that the shape of the material is changed by yielding the material in different ways at room or high temperature.
Pintejin is the top custom steel forging manufacturer in China. We can supply all kinds of different closed die steel forging parts in stainless steel, carbon steel and alloy steel.Capabilities include forged bars & shafts up to 18 in. dia. & 108 in. length, forged open die rings up to 52 in. OD & 12 in. ID, seamless rolled rings up to 62 in. OD, 60 in. ID & 16 in. height & forged discs up to 52 in. OD &12 in. ID. Blocks, hubs, pinions & additional products are also available. All products are made to exacting standards in weights from 2 lbs. to 8000 lbs. & can be machined to customer specs. or supplied smooth forged with allowance.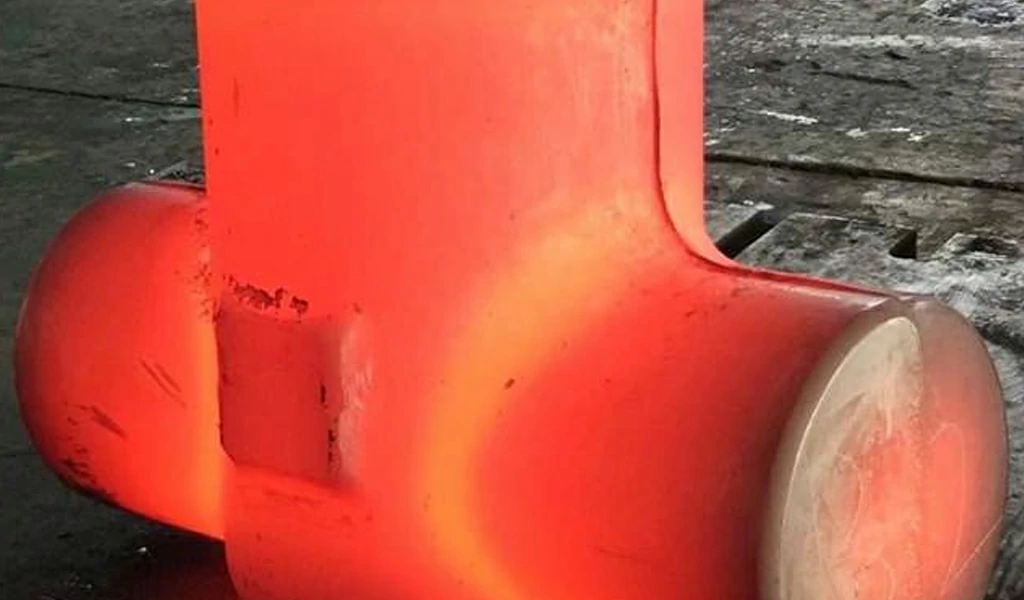 What Is Steel Forging
Steel forging is a processing method that uses a forging machine to apply pressure to a steel billet to plastically deform it to obtain a steel forging with certain mechanical properties, certain shape and size. Compared with the cutting process, the weight of the steel is basically unchanged during the forming process, and when the steel particles move in different directions, they all follow the direction of least resistance. During the steel forging process, the properties and microstructure of the steel also change. Steel forging is mainly divided into steel free forging, steel die forging and steel upsetting forging. Steel die forging is divided into two categories: open die forging with flash and closed die forging without flash.
The Forging Process Classification Of Steel
Hot rolled steel is to force the hot billet steel through rolls or molds to deform the billet steel and make it into I-beam, angle steel, flat steel, square steel, round steel, pipe, plate, etc. Due to the oxidation at high temperature, the surface shape of hot rolled steel is relatively rough. Unless a special heat treatment process is used, when the material is processed, the mechanical properties of hot rolled steel are relatively low due to annealing or normalizing treatment. This material is often used in low carbon structural steel parts such as buildings and racks. Hot-rolled steel materials are also widely used in the manufacture of mechanical parts (such as gears and cams, etc.), generally before proper heat treatment, the shape of the rough rolled parts is irregular, the material is uneven, and does not have the properties of cold-worked materials. Most alloys and steels with carbon content can be formed by hot rolling.
The raw material of cold rolled steel is billet steel or hot rolled steel coil. The final shape and size of cold rolled steel is obtained by roll rolling or die drawing of hardened steel at room temperature. Rolls or dies can refine surfaces and materials. Cold working can increase the strength of the part and reduce its ductility, as described in the previous chapters on Mechanical Forming and Hardening Processes. Therefore, cold-rolled steel has lower surface roughness and higher dimensional accuracy than hot-rolled materials. Its strength and hardness have increased, but at the cost of significant internal strains that can be relieved by subsequent machining, welding, and heat treatment, but can cause deformation. Commonly used cold-rolled steel includes sheet, strip, plate, round steel, square steel, pipe and so on. Structural steel in shapes like I-beams is usually only produced by hot rolling.
The Common Defects Of Steel Forging
Common defects of forging steel parts are: forging cracks, forging folding, forging over-burning. Hair lines, white spots, inclusions, delamination, etc. will be found on the machined surface
The Difference Between Steel Forged And Steel Cast
The difference between forged steel and cast steel is mainly reflected in the difference in the processing technology (forging and casting) of the steel. Forging is a plastic deformation process while casting is liquid forming.
Forged steel refers to various forging materials and forgings produced by forging methods. The plasticity, toughness and other mechanical properties of steel forgings are higher than those of steel castings, and they can withstand greater impact force. Therefore, some important machine parts are made of steel forgings.
Cast steel refers to a kind of steel casting produced by casting method, which is a kind of casting alloy. Cast steel can be divided into three categories: cast carbon steel, cast low alloy steel and cast special steel. Cast steel is mainly used to manufacture some parts with complex shapes, which are difficult to be forged or formed by cutting and require high strength and plasticity.
The Advantage Of Steel Forging
There is an initial cost for the design of the forged steel and the abrasive tools for its production. However, it requires lower renewal costs per part, thus reducing the cost of punching and forging large-volume steel parts.
In the stamping forging process, when the grain structure inside the metal is deformed, the deformation process of the grain spreads over the entire metal part, and the forged part can be shaped into the designed shape. Therefore, the ductility of the forged steel is improved. Forged steel has a ductility-to-weight ratio at least 20% higher than carbon steel.
---
The Process Of Steel Forging
As all the steel forgings produced in our factory are limited to closed die forging process, so below we will introduce steel forging process under closed die forging technology in detail. Normally, main steps of closed die steel forging processes are die/tool making, billet cutting, billet heating, forging, trimming, heat treatment, shot blasting, machining, surface treatment, inspection and package.
Step 1. Die design & making
Dies making is the unnecessary step for close die steel forging parts. Once a new order is placed, our engineer will design dies according to steel forging drawing from customers. Unlike casting,steel forging dies will include forging dies, trimming dies and flatten dies, that is why forging dies are much expensive than casting molds.
Step 2. Billet cutting & heating
In our forging company, we will keep some common steel material specifications in stock for continious production. After dies are completed, steel billets will be taken from our material warehouse, then cut into required length and heated by medium frequency furnace before forging.
Step 3. Closed Die Forging
After heating billets, heated steel bars will be placed under upper and lower dies, and then pressed into desire shape, but redundant material will shown around the product, which is named as flash.
Step 4. Trimming
Now forging blanks with flash are obtained, to remove the flash, the forged steel blanks will be put under trimming dies and pressed again. In this step, a whole forging blank is finished.
Step 5. Heat Treatment
To improve the strength and mechanical properties, heat treatment will be done after forging.Like investment castings, common heat treatment methods for steel forgings are normalizing, quenching, annealing, tempering & hardening, solution treatment, etc. Of course,heat treatment is only operated when it is required.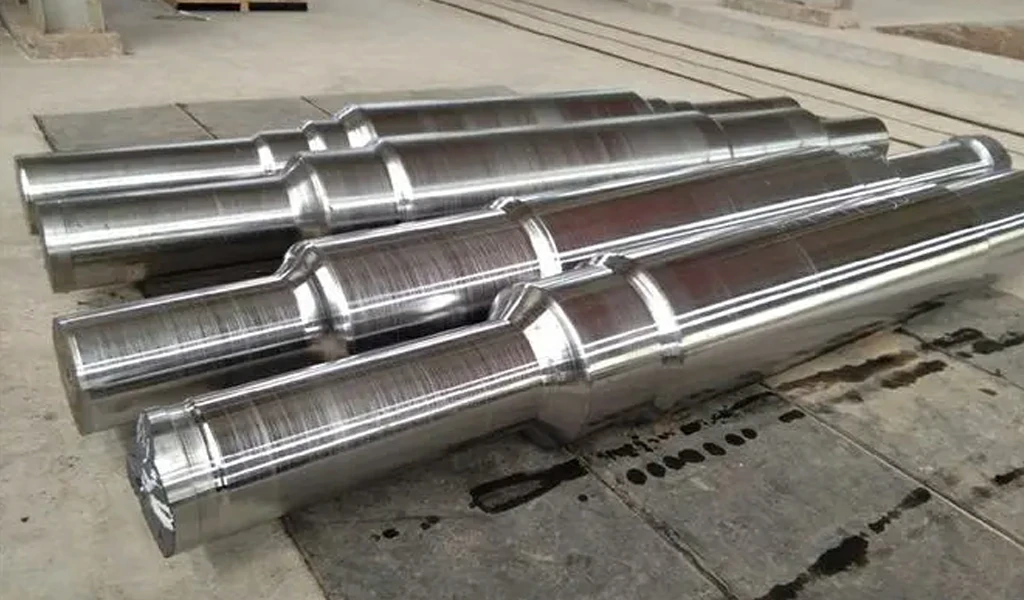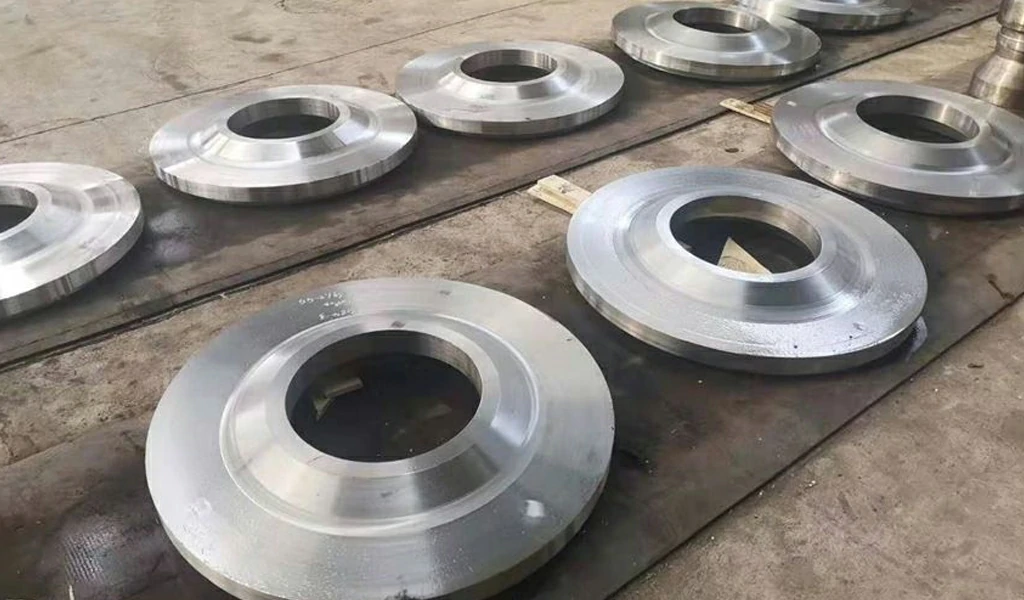 Step 6. Shot Blasting
To remove the scale and achieve better surface finish,steel forgings will be shot blasted. After shot blasting process,products will look much more clear and smooth.
Step 7. Machining
Although the tolerances of forging blanks are tighter than that of casting ones, sometimes it is still not enough for application, in this case,machining is needed. In our company, main machining equipments are NC lathe and CNC. NC lathe is used for simple machining, while CNC is for precision machining with high machining cost.
Step 8. Surface Treatment
If there is no special surface treatment requirement, water/oil anti-rust painting is enough before package. Sometimes special surface treatments are also required according to the application of steel forgings, like colour painting, zinc plating, electro painting, etc.
Step 9. Inspection
Inspection is also an important step. We can divide inspection process into external inspection and internal inspection. External inspection includes: dimention testing,visual defects inspection. And internal inspection refers to internal properties inspection.
Step 10. Package & delivery
For exported steel forgings, to protect products from damage, we will pack products with ploybag, and then put into standard wooden case. Besides, we can also customize package according to customer's requirements. Located in Shenzhen port, it is quite convenient for us to deliver products to clients' destination ports both by sea or air.
Steel Forging Part In China Steel Forgings Suppliers
As a professional forging manufacturer, Pintejin has extensive forging expertise, such as hot forging, warm forging and cold forging, as well as design and engineering expertise. With our unparalleled manufacturing capabilities, we strive to challenge long-term practices to constantly exceed the established framework constantly.We have many years of experience in manufacturing a variety of high-performance, critical and safety components.
Forging 5083 5052 6061 7075 2A12 Aluminum Flange

Aluminum Alloy Forged Mountain Bike Shoulder Cover

Aluminum Hot Die Forging Automotive Parts

Aluminum Alloy Die Forged Bike Folder Shoulder Cover V Brake Parts

Aluminum Alloy Hot Forged Bike Transmission Hook

Die Forged Packing Belt Connecting Mesh Ring

Forged Carbon Steel Special-Shaped Split Flange

Custom Forged Special-Shaped Hinge Spade Pins
---
If you are looking for Metal Forging Service,Pintejin is ready to give them to you! With us, you will have the opportunity to make your custom Hot forging parts, cold forging parts,machined parts, prototype production easy and less hassle. If you want to avail our service, call us now and get a metal forgings quote!